The way we work – What ThePrint did in 2021 and why good journalism pays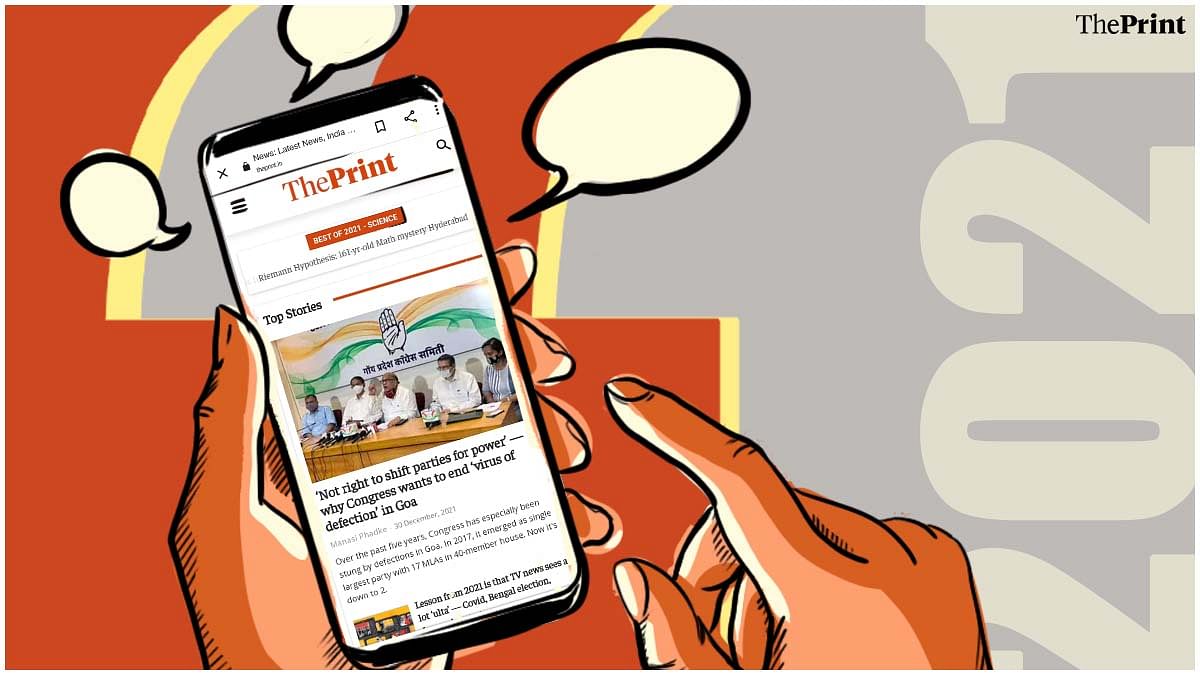 2021 – What a year it has been. To rephrase Charles Dickens' memorable lines in the novel A tale of two citiesIt wasn't the best of times, but it wasn't the worst of times either. As the coronavirus darkens the horizon, there have been glimmers of hope in the form of vaccines and clouds of desperation as new variants combined with miscalculations in humans to spread death and disease worldwide.
On the eve of 2022, the Omicron strain has already violated our immune system as well as national borders, crossing continents and now threatens India with the grim prospect of a third wave in the New Year.
ThePrint will be there to point it out as it did in the second wave in 2021 and the first in 2020.
Before I go over some hallmarks of the year at ThePrint, I must thank the readers who have written to the editor of the readers since the article was created in July 2021. I have tried to play the role most faithfully possible, to answer their questions satisfactorily, share their comments and suggestions with the website management – and of course, admit an error when it is made and reported.
What have I learned in the past six months? Well, it has been an exercise in humility to find out how closely readers follow ThePrint and care enough to share their views. These are attentive, attentive readers and listeners who spotted an error in the blink of an eye and then, rightly so, checked us off.
It's a relief to be able to say that no monumental mistakes were made by ThePrint nor that there was a major difference of opinion on editorial content with readers – both would have mis-reflected on the editorial judgment and the integrity of ThePrint as an independent and objective journalistic company. .
Readers have, for the most part, noticed blunders linked to the names, places or chronology of an event; others were shocked by a headline which they felt did not reflect the content of the report. There have been several complaints that certain reports or opinion pieces in ThePrint reflect "bias" – often, for or against the ruling Bharatiya Janata (BJP) party.
Next year I plan to write about the headlines, how and why they are labeled the way they are. I also hope to reflect on this cunning character – "bias" – an imprecise and indeterminate concept that is almost impossible to pin down in fact.
As the editor of readers, I have learned to respect readers' opinions and to look at ThePrint through their eyes – one reader accused me of simply being a messenger for ThePrint (read apologist). Oh dear.
I see the Editor of Readers as someone who tries to explain ThePrint to their readers and vice versa, someone who builds bridges between the two, as well as someone who takes their colleagues to task when necessary. . There have been times when I didn't agree with a reader's comments, but that's because I thought it was unwarranted, not because I feel obligated to blindly defend the website.
---
Read also : We asked our readers why they love ThePrint. This is what they told us
---
Report the Covid and stay safe
Meanwhile, back to ThePrint in 2021.
What marked the year? Two very different aspects of our work: ThePrint's commitment to ground reporting and the impact of the pandemic on work culture.
As with most individuals and institutions, 2021 has been defined by the pandemic. ThePrint's editorial output, as well as its daily life as an online information portal, has been dictated by the vagaries / trajectory of the virus, throughout the year but above all, at the height of the second wave in March-May 2021. The editors had to reconcile the need to report on the murderous progress of the coronavirus in India and the state assembly elections held during that time, with the imperative to protect ThePrint staff. As it stands, up to two dozen Team Print have contracted the virus, but luckily they have recovered without hospitalization.
Coming as it did following a grueling 2020 when we first learned to live in lockdowns and work from home, 2021 tested everyone's endurance: ThePrint went through it with plenty to be proud of although it went through a period of churn and change, which saw him regroup and reassess his priorities.
Boots to the ground
I believe ThePrint has been most successful when it has kept its ear to the ground and followed the basics of good journalism – reporting a story firsthand and following where it takes you. And that's what he did in 2021.
Journalists at ThePrint witnessed the worst weeks of the coronavirus across the country as they traveled to hot spots in worst-hit states, Kerala, Tamil Nadu, Karnataka and Andhra Pradesh in Maharashtra, in Uttar Pradesh and West Bengal – and others like Madhya Pradesh, Punjab and Bihar, and further east, Manipur, Mizoram.
This is where ThePrint made its mark, so much so that it has become something of a habit: no sooner does an incident of any significance occur, an editorial team is in place – think of the election. State in Assam, Kerala, West Bengal, Tamil Nadu, which were extensively covered by ThePrint from February to May; Kumbh Mela worshipers in Haridwar during the worst days of the second wave; the extraordinary clash between the police in Assam and Mizoram, the Lakhimpur Kheri incident which left eight dead, the protests of farmers against the three agricultural laws in the Punjab, the acquittal of 127 Muslim men accused of being terrorists in Gujarat, or the outbreak of a particular dengue-like disease among children in Uttar Pradesh, not to mention Jammu-Kashmir where an editor and two senior reporters visited at different times in 2021.
Before writing this article, I surveyed journalists and photographers, asking them to share their travel diaries for the year with me. A rough calculation indicated that they had "been seen this" in more than 20 states and union territories over the past year, not counting states where ThePrint already has journalists besides Delhi.
This was taken to another level when ThePrint sent an editor to Afghanistan in early August – Nayanima Basu was one of a handful of reporters there for Indian media to cover the departure of US security forces and the march. virtual Taliban in Kabul.
To me, what stood out about helicopter journalism – when reporters fly in and out to report a story – is that reporters were on the road, in one or more states, for long periods of time. It is not possible to quote all the young journalists who crossed the countryside but there was Jyoti Yadav in Uttar Pradesh, Sajid Ali in Bihar, Angana Chakrabarti in Maharashtra and Revathi Krishnan in Tamil Nadu while Fatima Khan traveled without stop in different states. Not to mention tireless photographers, National Photo Editor Praveen Jain and Manisha Mondal, Suraj Singh Bisht and video editors like Urjita Bhardwaj, Nirmal Poddar and Reeti Agarwal.
It should be noted that ground reporting is expensive, and that is why ThePrint is increasingly looking for subscriptions, the only practical way to finance good journalism.
The efforts of journalists on the ground would not have come to fruition without the people you rarely realize – the editorial office and the publishing office known as CMS at ThePrint. They are the ones who work diligently and altruism since they do not receive signatures (although ThePrint recognizes them at the end of each story); they stay in the background, shaping and restructuring stories, rewriting, fact-checking and checking for plagiarism – the latter rampant during the pandemic; they are the ones who publish the stories, promote them on social media and monitor the news. I will allow them to remain anonymous but must recognize their invaluable contribution.
---
Read also : Why are readers' editors important? Seasoned Journalists Explain at IIC Webinar
---
The way we work
The pandemic and the second wave have changed the way we live and work and this has had its own consequences.
Most importantly, its impact on the work culture – the hybrid model of working from home and working in the office that became the norm in 2020 continued until 2021.
Overall, with the exception of a period from mid-April to mid-June of this year, ThePrint's office in the Express Building in New Delhi has remained open, with the occasional small editorial team led by editor-in-chief YP Rajesh.
At first, only the reporting team took over. Then, in early March 2021, it seemed safe enough that more people would come back after receiving their first doses of the vaccine. We had started to drift away when the second wave hit us in April and sent us home.
In July-August many more gathered at the office and in November it was deemed safe enough for all staff to return – for the first time in almost 20 months the whole team was in one place. place.
While the work-from-home model may have helped increase productivity by reducing travel time and allowing us to multitask, it also had a downside, especially for the young team of ThePrint: Young people had to work from home without profit from senior editors and journalists by their side, despite calls from Zoom. Editors struggled to assess skills and connect with the team via a mobile phone. A busy newsroom generates its own energy and the exchange of ideas that no videoconference can duplicate; it also creates a feeling of belonging and unity.
I think we've only now started to appreciate the importance of constant, personalized interaction in a newsroom, which the pandemic has made nearly impossible. This absence can go a long way towards understanding why news houses, including ThePrint, have seen many people quit their jobs and start afresh elsewhere in 2021, and why ThePrint has also seen an influx of new hands on deck at all. Levels – Tanushree Pandey, Ishadrita Lahiri, Vandana Menon, Abhishek Dey, Shubham Batra, Nikhil Rampal, Anusha Ravi Sood, Sreyashi Dey and Purva Chitnis are some of ThePrint's new signings.
The biggest loss for ThePrint in 2021 was the tragic death of Renu Agal, editor-in-chief of its Hindi section, after a hit-and-run accident in Delhi. Agal was one of the best journalists, fluent in Hindi and English, an excellent reporter, and a well-regarded and respected editor among her colleagues. She put the Hindi section of ThePrint on the map – we miss her deeply. It is to the credit of the Hindi team that she went ahead, despite such a defeat.
When it comes to content, I have noticed that ThePrint consciously exploits its strengths: the focus is more on politics and governance, economy and education, defense, law and culture. There is also more room for functionality and lengthy writing in sections such as "Past Forward". And sport is also fighting for space.
Will ThePrint be able to capitalize on these strengths in 2022? Again, the answer depends on the whims of the coronavirus and our responses to it.
A very happy new year to all our readers.
(Edited by Neera Majumdar)