Take the guesswork out of cost sharing with this awesome price calculator by Aaron Radford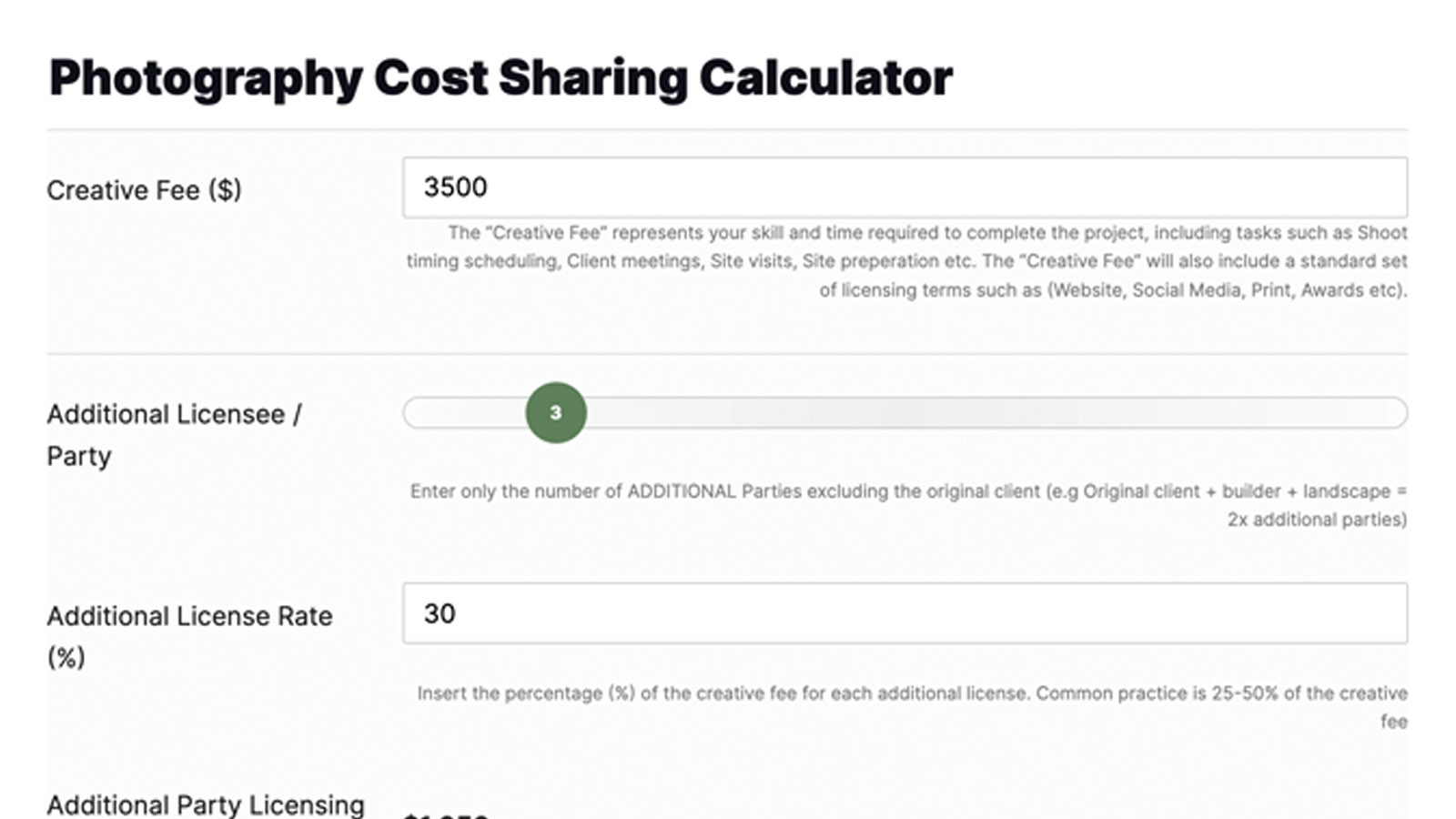 Let's talk about making money. The most common questions in the APALMANAC inbox relate to prices. Architecture and interior photography pricing can be nuanced and full of variables such as usage, licensing, creative fees, post-production fees, assistant fees, and more.
One of those aspects of pricing is a magical little thing called cost sharing.
Cost sharing is an extremely powerful pricing tool that provides a win-win situation for you and your customers. This is a pricing and licensing option in which a photographer photographs a space and then distributes images to multiple parties involved in the project who have "come in" on the shoot together. Simply put, it reduces the overall cost of the project for all parties involved in hiring, but increases revenue for you – the photographer – to do essentially the same amount of work.
Sounds awesome, doesn't it? So how do you do it? Cost sharing, like any pricing for any job, requires a bit of forethought and that you have established rates.
Aaron Radford, an architectural photographer based in Hamilton, New Zealand, shares "Like many of us I started out photographing real estate and the pricing structure for it is very different from charging a architectural filming. I have always struggled when quoting for architectural and commercial filming and was constantly undercharged due to the lack of a proper pricing method. Then when a third party requested images, either I gave them away for free or offered a price on the spot.
If this sounds familiar, you're not alone. Let's face it, a lot artists don't like math. If you're anything like me – and Aaron – you probably wish there was a magic generator where you could just plug in prices and percentages and it would spit out a number for you…
That's exactly what Aaron has created with his awesome Cost Share Calculator.
Aaron's Pricing Calculator allows you to quickly enter your daily rate/creation fee, post-processing fee, and additional license fee. From here you can drag in variables such as the number of parties involved and the number of images you will deliver. Once you have everything in place, the calculator generates your project's total revenue, while breaking down each licensee's quote, as well as showing each party's savings. Pretty cool, huh?
Since introducing cost sharing to his business and educating his clients on how it works and its benefits, Aaron estimates that around 70-80% of his jobs are cost shared. His business has benefited from "an increase in revenue clientele, turning one potential client into 3 or 4, and more often than not the additional parties will end up hiring me for their own filming on different projects".
I like the idea of ​​cost sharing because it's beneficial for everyone involved. On the other hand, you need to put caveats and limitations in the cost-sharing agreement to set expectations and avoid any issues. I asked Aaron his take on this, and he said:
"Yes quite!
Suppose you have a lighting company, for example, which may need specific details, you need to plan the shots so that you don't miss the shots of a particular client. For example, you may be a LIGHTS OFF shooter but the lighting company has specialist lighting in all the rooms that you will need to plan for.
When I'm on site, I usually only have the initial client and a stylist or interior designer to eliminate "too many cooks in the kitchen".
You can – and should – check out Aaron's price calculator here:
If you're looking for more information on pricing your architectural photography and using cost sharing with your clients, I also highly recommend reading Mike's article on cost sharing Kelley here on APALMANAC, and to give "Pricing Your Photography" from The craft of architectural photography a watch! Now go ahead and earn money!