One bishop, two dioceses: can it work?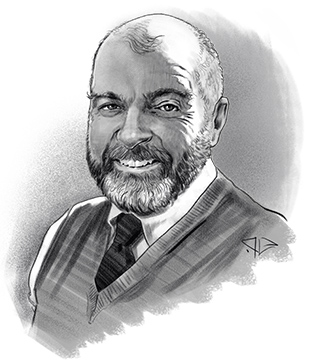 By Phil Lawler ( bio – articles – email ) | April 28, 2022
Yesterday's news included the curious report that in two different cases – one in Ireland, the other in Wales – Pope Francis had appointed a bishop to head two separate dioceses. In each case, we are told, the dioceses will remain separate and autonomous. At the Pillar, Ed Condon wonders if it could be the start of a trend"in the face of the decline in the number of clergy and Catholics who go to Mass".
We have already seen several series of diocesan "restructuring" campaigns, in which parishes are merged into pastoral cooperatives, with one pastor in charge of two or more churches. The layout is far from ideal: the priest is forced to hop from town to town, and parishioners have to track his movements if they want to know where mass will be celebrated on any given day. But it beats never have mass celebrated in the local parish. A part-time priest is better than no priest at all.
At least in theory, cooperatives allow parish churches to remain open despite the shortage of priests and parishioners. No doubt this fact makes the solution attractive to diocesan administrators, who are less likely to face canonical challenges from Catholics protesting the closure of their beloved churches. Moreover, again, at least in theory, the cooperative approach leaves open the possibility that at some future date, when the Church experiences a new burst of evangelistic zeal, the pews will once again be crowded and the seminaries filled with young candidates for the priesthood. , these churches could again become healthy independent parishes. This option would be ruled out if churches were closed entirely and properties sold to developers to be turned into condos.
Does the same logic apply to dioceses? There could be economies of scale, if—if!—diocesan bureaucracies could be streamlined. But this does not necessarily happen when a bishop presides over two diocesan staffs. In practice, the bishop might need After help manage the details of the administration of two dioceses.
More importantly, I wonder if a bishop, charged with the responsibility of running two dioceses, could be close enough to his people – close enough to have the "smell of sheep" that Pope Francis wants. Or to take the same question from another angle, would the faithful of the dioceses have enough opportunity to get to know their shepherd?
Even now, the Catholic faithful are struggling to arrange a meeting with their bishops. Prelates sometimes complain that they are often ambushed at funerals or confirmations, by parishioners who have something to cringe at: a complaint against diocesan policy, or an unpopular priest. It is true that celebrations and ceremonies are not the appropriate occasions to raise these concerns. But how many of these worried Catholics were unable to make an appointment with the bishop? How many have been frustrated with diocesan gatekeepers, or have received pro forma answers from the bishop's assistants?
Diocesan bishops are often asked to temporarily serve as administrators of neighboring dioceses, after the death or resignation of another bishop. But the role of a temporary administrator is quite different from that of a permanent bishop. The relationship of a bishop with the people of his diocese is like that of a father with his children. In special circumstances, a father may welcome another family into his home. But it is not reasonable to ask a father to lead two separate families. By the same logic, it might be necessary in some cases to merge two dioceses into one, but I cannot believe that it is desirable to ask a bishop to preside over two dioceses.