Northam announces $ 1 billion for Chesapeake Bay work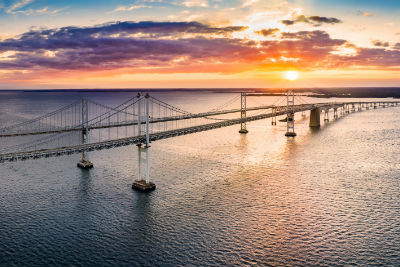 Governor Ralph Northam's two-year budget proposal will provide historic funding for the Chesapeake Bay, drinking water infrastructure and conservation of Commonwealth natural resources. With this proposal, the Commonwealth has spent more than $ 1 billion to restore Chesapeake Bay and Virginia's tidal tributaries over the past four years.
"Virginia is committed to reducing pollution in Chesapeake Bay and its tributaries to meet drinking water targets by 2025," Northam said. "My budget will ensure that the Commonwealth lives up to its commitment and restores the natural wealth of the Chesapeake Bay. By helping farmers and communities implement our Bay Cleanup plan, my budget supports the economic, public health, recreational and quality of life benefits of a restored bay for future generations.
The proposed budget will provide nearly $ 286 million to fully fund the Virginia Natural Resources Commitment Fund, helping farmers and landowners implement drinking water and conservation practices. Working together, the agriculture and conservation communities have long advocated for full funding of the Virginia Agriculture BMP cost-sharing "needs assessment" – a data-driven funding calculation developed by stakeholders.
The cost-sharing program supports various conservation planning practices to address cropland, pasture, hayland, and forest land. Additionally, the funding will provide technical assistance to farmers and landowners to implement conservation practices.
Northam's proposed budget allocates $ 233.6 million to address inequalities in access to clean drinking water by tackling outdated sewage systems and failing septic systems. The proposal includes an investment of $ 165 million to support the cities of Richmond, Lynchburg and Alexandria and funding of $ 68.6 million for local municipal wastewater needs.
"Virginia faces a 2025 deadline to meet Clean Water Act mandates to reduce pollution in Chesapeake Bay," Natural and Historic Resources Secretary Ann Jennings said. "This historic investment in the bay responds to calls from coalitions of local government, business and conservation interests. With this funding, we know that a saved berry is within reach and will benefit all Virginians. "
Northam's proposal also includes an additional $ 10 million for Virginia Land Conservation and supports forest and farmland conservation through a $ 5 million investment for the Office of Farmland Preservation. In addition, the funding will help address the shortage of available seedlings by re-establishing the New Kent Nursery, expanding the urban and community forestry program, and increasing tree planting. These efforts will simultaneously support the goals of the Chesapeake Bay clean-up plan in Virginia.
"Collaboration is essential to ensure the protection of Chesapeake Bay and other important watersheds and lands of our great Commonwealth," said Agriculture and Forestry Secretary Bettina Ring. "These bold investments in our farmlands and forests in rural and urban areas once again demonstrate the critical role they play in protecting our environment, building healthier communities and growing our economy."
In Virginia, a restored Chesapeake Bay will generate more than $ 8 billion each year in new economic value through improved commercial and recreational fishing, reduced drinking water treatment costs, resilience to climate change and improving property values ​​and the quality of life in the region.
"Virginia farmers are key partners in efforts to restore the quality and richness of the Chesapeake Bay," Del said. David Bulova, Chairman of the Chesapeake Bay Commission. "By fully funding agricultural conservation practices and technical support, these investments ensure farmers what they need to participate in the Virginia Bay clean-up plan." "
"Conserving Virginia's natural landscapes and open spaces supports tourism, one of Virginia's most important industries," said Senator Emmett Hanger, longtime member of the Chesapeake Bay Commission. "These investments also help keep our agricultural and forest lands active and support local communities protecting valuable natural resources."
"Investments in our water infrastructure support local economies and public health," said Senator Richard Stuart, longtime member of the Senate Committee on Agriculture, Conservation and Natural Resources. "This funding tackles the overflow of poorly and untreated waste into the Potomac, Rappahannock and James rivers so that our children and their children can swim and play in our rivers without being threatened by harmful bacterial pollution."
Related