Health staff honored for commendable work done by health workers on the ground during Covid-19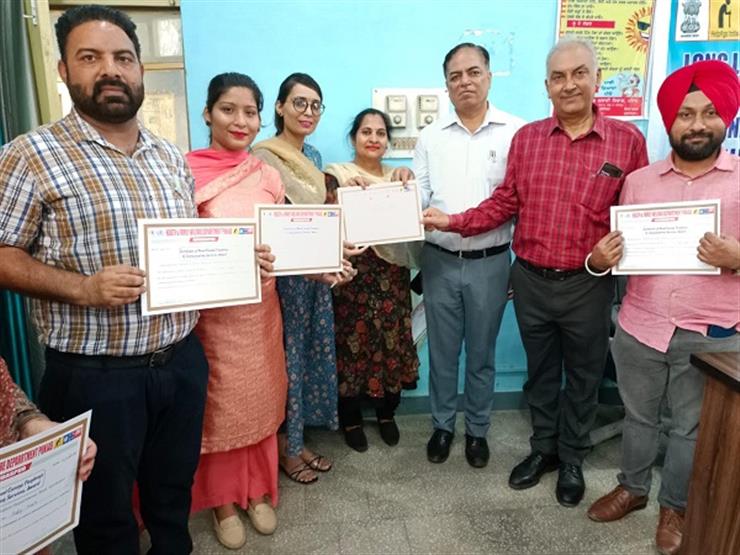 GURDASPUR: Under the leadership of Civil Surgeon, Dr. Vijay Kumar and under the leadership of Assistant Civil Surgeon, Dr. Bharat Bhushan, the Mass Media Wing and District Multipurpose Health Worker Supervisor were honored with a letter of congratulations for the commendable work accomplished.
According to Assistant Civil Surgeon Bharat Bhushan, World Immunization Week is celebrated annually from April 24 to 30. This time, the event was held in honor of the commendable work done by health workers on the ground during COVID-19. The vaccination program was started to protect pregnant women and newborns against many deadly diseases. Given the Covid condition, our staff are working diligently today for Covid vaccination.
He said the mass media wing also urged people to get more vaccinations to avoid covid. As a result, cases of Covid are rare today. Before vaccination, the death rate from covid was very high in people but after vaccination, its graph went down a lot. He also instructed the health workers to diligently pursue the vaccination work.
The District Immunization Officer, Dr. Arvind Kumar, on one occasion spoke about the achievements of immunization and said that we had won 100% victory over polio with the cooperation of the people. But there are still cases of polio in the neighboring country, which is why the polio vaccine is given continuously.
Elaborating on vaccination, the District Immunization Officer said that the target of vaccination against Covid-19 has largely been achieved. With good covid vaccination coverage, we overcome this disease. He appealed to the public for children to be vaccinated against BCG, pentavalent, polio drops, rotavirus, PCV, MR and IVP to protect them from serious diseases. Also, it is very important that pregnant women receive both doses of the TD vaccine.
On this occasion group LHV, Surinder Kaur BEE, Sandeep Kaur BEE, Hardeep Singh BEE, E, Parminder Singh BEE, Help Age India William Gill, Deepika, Dr. Arpana Sharma, Sandeep Singh (Rachchhan), Harpreet Kaur, Neeraj Sharma, Rajinder Kumar, District Media Officer Gurinder Kaur.