Delegates set course for the future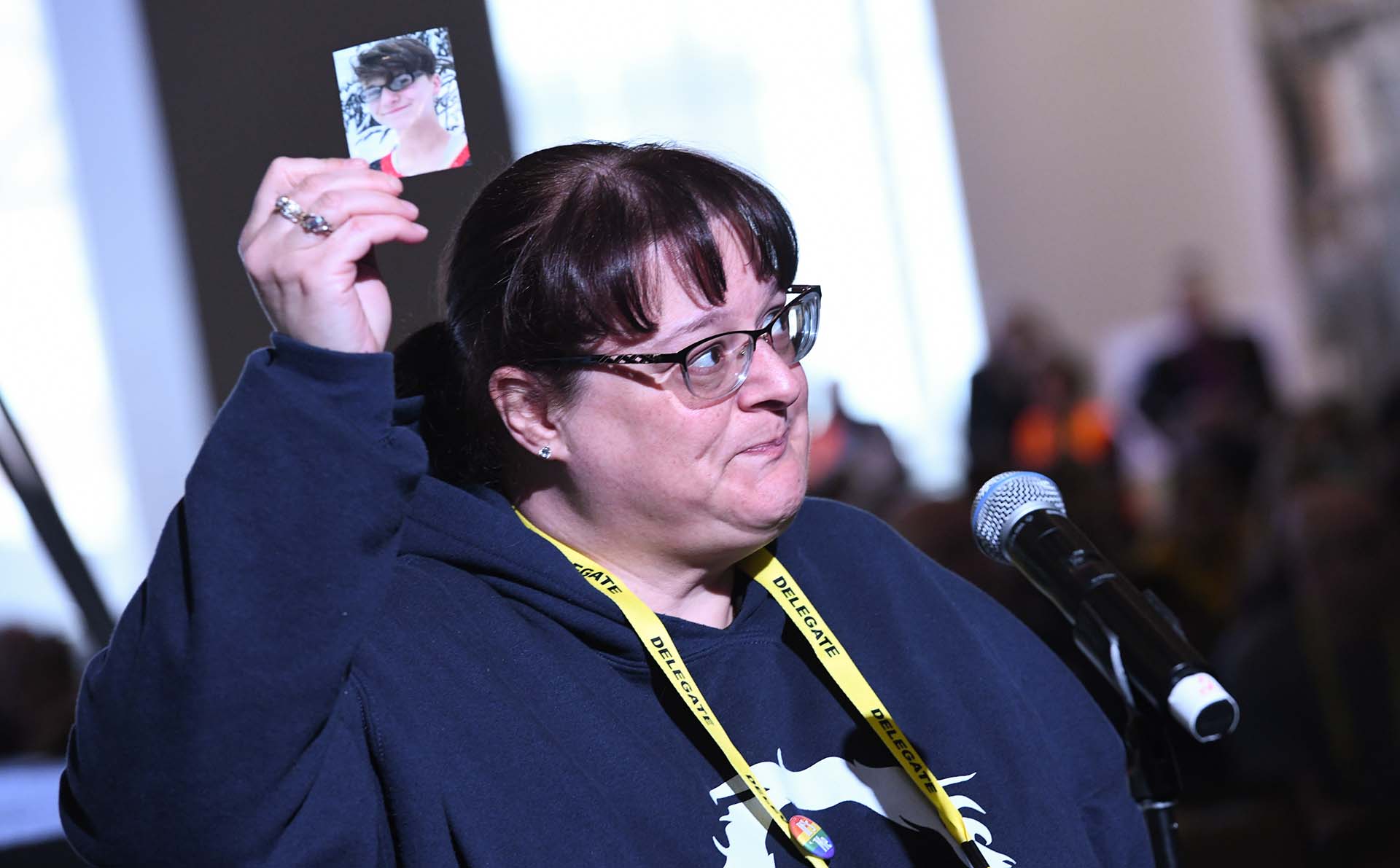 Legend:Holding a photo of her transgender son, Tanya Forget-Truesdell of the Edwards-Knox Service Employees Association spoke in favor of a resolution condemning the recent wave of anti-LGBTQ legislation. Photo by El-Wise Hazelnut.
Urgently calling for action and funding to support NYSUT's Future Forward program, Representative Assembly delegates approved a wide range of resolutions to guide the union's advocacy over the coming year.
During convention action Friday and Saturday, RA delegates considered 29 resolutions and approved three special work orders. A total of 17 resolutions were approved, seven were rejected, four were referred to the Board and one was deemed out of order.
Many resolutions call for the programming and funding of making NYSUT's Future Forward initiative a reality. These include resolutions for:
repeal the state's onerous receivership law, removing the punitive consequences of testing for students, teachers, and schools;
support community schools, advocate for additional funding, and support the hiring of community school principals/coordinators to align community services with student and family needs;
strengthen and diversify the pool of educators, advocating for scholarships, career ladders for teaching assistants and other support staff; fellowship and residency opportunities; Develop your own programs and improve the educator certification process;
asking for resources to hire much-needed counseling and mental health staff; educators for English language learners and special education students; and at least one registered professional nurse in each school building.
calling on schools to bridge the digital divide; and
implement shorter, developmentally appropriate assessments from grades 3 to 8. The resolution urges NYSUT to work with the NEA and AFT to support efforts at the federal level to authorize sweeping testing instead of level-by-level testing; and allow the use of local screenings and progress monitoring to meet federal requirements rather than statewide assessments.
Delegates approved three special agendas: one in support of the Ukrainian people; another call for federal funding to address school and community violence; and a third urging NYSUT to condemn the wave of anti-LGBTQ+ legislation and supporting LGBTQ educators and students.
In other actions, delegates approved a resolution supporting legislation and programs to help and educate the public about sickle cell disease.
UFT leader Janella Hinds spoke passionately on behalf of a resolution to support positive student relationships, consent education, and the eradication of domestic violence and sexual assault. "We can teach our children how to have healthy relationships…how to be respectful and how to love with kindness and honor," she said.
Other legislative resolutions call for support for paid family leave, building public renewable energy by expanding the New York Power Authority; and prioritizing protection and education against solar eclipses. Another pro-library resolution calls for the presence of a certified librarian/media specialist in every school and the provision of resources to protect school and classroom librarians from censorship.
For higher education, delegates supported a resolution to advocate for legislation to add a nonvoting faculty member to the community college board of trustees.
On pensions and retirement and organizational matters, delegates approved resolutions urging NYSUT to advocate for legislation to temporarily allow members of the teachers' pension system to have a pay raise than 10% in the calculation of their final average salary.
Juliet Benaquisto of Schenectady FT, a teacher on the board of the New York State Teachers' Retirement System, explained that many members lost income in the first year of the pandemic, but had them. then recovered this year. This measure would temporarily allow these members to have a salary increase greater than 10% in the calculation of their pension.
Delegates also approved a measure urging NYSUT to educate members, including part-time and auxiliary workers, about opportunities to maintain membership during breaks in service and into retirement.
A resolution opposing the privatization of Medicare was amended to urge NYSUT to continue its fight for federal and state legislation to provide affordable health care for all and to support local unions as they seek options for extended coverage for serving and retired members through collective bargaining.
"It's a shame that health care is tied to jobs," said NYSUT board member Joe Cantafio of West Seneca TA. "(Health care) is a priority. It is a human right and a civil right.
Delegates referred a number of resolutions to the NYSUT Board of Directors, including actions calling for an additional SRP retiree and retired trustees on the NYSUT Board of Directors and a task force to discuss the disparity in pensioner votes. The board will also consider pushing to allow community colleges to establish and award bachelor's degrees.
Delegates also approved amendments to the NYSUT Constitution and Bylaws to adopt gender-neutral pronouns.