COLUMN: Gain work experience as an Indiana House intern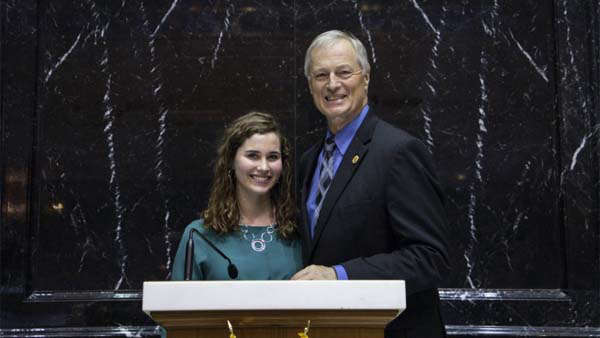 State Representative Randy Frye encourages local students, recent graduates and law schools to apply.
State Representative Randy Frye (R-Greensburg) (right) welcomes Legislative Intern Megan Hill (left) to the House Chamber during the 2019 Legislative Session at the Statehouse. Photo provided.
(INDIANAPOLIS) – As colleges in the state start classes, many students and future graduates will start looking for an internship. Students seeking on-the-job work experience should apply for a paid internship with Republicans at Indiana House at Indianapolis Statehouse.
Internships are a great way for students to build on what they have learned in the classroom while also strengthening their resumes. Positions are open to sophomores, juniors and seniors, as well as recent university graduates, law students and graduate students. All majors are welcome and no political or government experience is required.
Interns fulfill many roles during the legislative session, which runs from January to mid-March in 2022. Legislative interns help track and research bills and communicate with voters. Communication and Media Relations interns write press releases, produce video and audio segments, and assist with graphic design and media relations. Students interested in research can help policy and budget policy departments analyze and monitor legislation and prepare committee reports.
In addition to working closely with lawmakers, the House Republican internship is an opportunity to build professional relationships with other leaders across the state and hone the skills that translate into any career. Many of our interns hold full-time positions, either at Indiana Statehouse with our team, or in state agencies or in the private sector. Whatever career path they choose, this opportunity helps them gain hands-on experience.
Interns receive a bi-weekly stipend of $ 750 with the option of requesting a $ 3,000 scholarship to be used for undergraduate and graduate expenses. The internship is full-time, 8:30 a.m. to 5 p.m., Monday to Friday, and many schools also offer academic credits for the internship. The deadline to apply is October 31st. To find out more about the internship or application conditions, visit indianhouserepublicans.com/internship.